beginning of content:
AP Seminar & AP Research
 AP Capstone is an innovative program that equips students with the independent research, collaborative teamwork, and communication skills that are increasingly valued by colleges.
Developed at the request of College Board Higher Education membership, AP Capstone is built on the foundation of two new AP courses – AP Seminar and AP Research – and is designed to complement and enhance the in-depth, discipline-specific study provided through other AP courses. The AP Capstone curriculum fosters inquiry, research, collaboration, and writing skills through the intensive investigation of topics from multiple perspectives.
The AP Capstone program is composed of:
AP Seminar: AP Seminar provides sustained practice of investigating issues from multiple perspectives and cultivates student writing abilities so they can craft, communicate, and defend evidence-based arguments. Students are empowered to collect and analyze information with accuracy and precision and are assessed through a team project and presentation, an individual written essay and presentation, and a written exam.
AP Research: In AP Research, students develop the skills and discipline necessary to conduct independent research to produce and defend a scholarly academic thesis. This second course in the AP Capstone experience allows students to explore deeply an academic topic, problem, or issue of individual interest and through this inquiry, students design, plan, and conduct a year-long mentored, research-based investigation. The course culminates in an academic thesis paper of approximately 5,000 words and a presentation, performance, or exhibition with an oral defense.
AP courses of the student's own choosing.
Students typically take AP Seminar in the 10th or 11th grade, followed by AP Research. Students who earn scores of 3 or higher in AP Seminar and AP Research and on four additional AP Exams of their choosing will receive the AP Capstone Diploma™. This signifies their outstanding academic achievement and attainment of college-level academic and research skills.
Alternatively, students who earn scores of 3 or higher in AP Seminar and AP Research will receive the AP Seminar and Research Certificate™ signifying their attainment of college-level academic and research skills.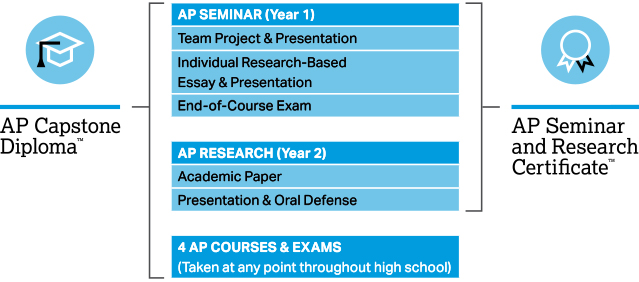 Credit and Placement Policies Considerations
The best way for colleges and universities to encourage students to participate in the AP Capstone program and develop critical thinking, analytical, and research skills is to develop strong, data-driven credit and placement policies.
To date, over 100 public and private institutions have indicated that they have or are working on policies to welcome students who successfully complete AP Capstone. When developing a policy, the key consideration is to align AP Seminar and AP Research to existing courses in your academic catalog.   
Policies currently in place across the country include the following:
Credit for a core course in English that is both writing-intensive and focused on inquiry (a large, public flagship).
Credit for a first year Independent Studies course (a mid-sized, regional public institution).
Six elective credits per course in the AP Capstone program, with care taken to ensure that degree plans offer enough space in the electives category to make this credit award meaningful (a highly-selective private institution focused on STEM fields).
Admittance to the Honors program and a merit scholarship for students who complete the entire AP Capstone program (a mid-sized, regional public institution).
General education units for students completing either or both components of the AP Capstone program and subject-specific application of the credits awarded for AP Research after departmental review of the student's paper (a large public flagship).
If you would like assistance on how to best understand the learning outcomes of the courses in AP Capstone and how they might articulate to courses on your campus, please contact us at [email protected].
Testimonials for AP Capstone
"[Through this program] you get students turned on to higher education in a way they are not currently and they enter university with a different kind of attitude."
—Susan Roth, Vice Provost for Interdisciplinary Studies, Duke University
"The AP Capstone program will help students to develop critical thinking skills that allow them to think independently, to analyze issues from different perspectives, to communicate clearly, and to conduct independent research. These are exactly the types of skills that they will be expected to utilize in college and the AP Capstone program will give them a terrific head start."
—Zina L. Evans, Ph.D., Vice President for Enrollment Management and Associate Provost, University of Florida
"The ability to guide the student toward understanding where a research method is valid needs to be explicitly taught."
—Ellen Woods, Associate Vice Provost for Undergraduate Education and Director of Thinking Matters, Stanford University
"AP Capstone provides more of the learning students will need for success in college and beyond…We want them to come in ready to analyze issues from multiple perspectives, integrating disparate ideas and comfortable with innovation, so they can make real contributions when they get here."
—Ken O'Donnell, Senior Director, Student Engagement, California State University, Office of the Chancellor